Japanese sumi-e painting class in Rubí
Kaoru Hirose
¿Would you like to immerse yourself in the fascinating world of Japanese art and master the ancient technique of Japanese Sumi-e painting in Ruby? This is your unique opportunity to learn from the renowned master Kaoru Hirose. Discover the elegance and harmony between ink and brush in her Sumi-e classes, where she will guide you through an artistic journey full of beauty and personal expression.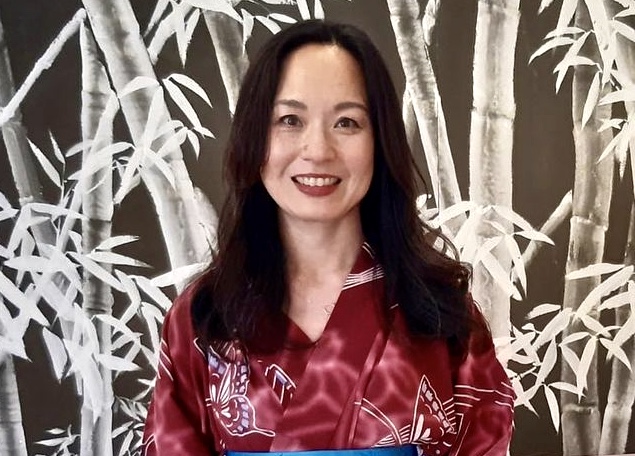 Timetable and prices of our Japanese Sumi-e painting classes
Advanced level
From 10:30 to 12:00
Basic level (English and Spanish)
From 18:30 to 20:00
Advanced level
From 18:45 to 20:15
Intermediate level
From 18:00 to 19:30
Online classes: 80 euros per month (4 classes per month) - 1st trial class Free!
Personal classes: 37 euros (30 euros for online students)
Why should you choose Sumi-e classes with Kaoru Hirose in Ruby? Experience and depth from an expert teacher
Kaoru Hirose is a renowned educator of Sumi-e, the ancient Japanese painting, in Ruby. Her extensive experience and teaching of this age-old art is evident in every class, where she shares with her students the secrets and methods passed down from generation to generation with great enthusiasm and expertise.
Individualised teaching and personal attention
By participating in Sumi-e classes with Kaoru Hirose, you will receive personalised instruction and a teaching approach tailored to your needs. Kaoru understands the individuality of each student and tailors to their abilities and artistic goals. She will accompany you step by step, giving you constructive feedback and useful tips to improve your skills and perfect your own style in Sumi-e.
Inspiring and nurturing environment
Kaoru Hirose's Sumi-e classes are held in an environment that fosters creativity and personal growth, where you will have the freedom to explore your creativity and connect with other art enthusiasts. Kaoru fosters a supportive and collaborative environment, where students can share ideas, inspire each other and move forward together as artists.
Do you want to give a workshop as a gift?
Start your Sumi-e art journey in Ruby with experienced master Kaoru Hirose.
Embark on an exciting journey through the traditional Japanese art of Sumi-e in Ruby, guided by renowned teacher Kaoru Hirose. If you are drawn to the art and have an interest in exploring new techniques and styles, our Sumi-e classes are the place for you.
We invite everyone, whether you are a beginner eager to learn or a veteran artist looking to expand your knowledge, to visit our website and find out more about the lessons we offer. Our classes are a motivating environment where you can cultivate your artistic talents under the expert guidance of Kaoru Hirose.
In our sessions, each student is appreciated and receives individual attention to further their development. The aim is for each person to forge their own unique style and express themselves through the art of Japanese Sumi-e painting.
Kaoru Hirose, with his extensive background and passion, will guide you through every stage of your training. You will immerse yourself in the deep culture of Japan, learn the grace of each stroke and the subtlety of ink on paper.
Don't miss this opportunity to join us! Open the door to a universe of creativity and beauty, discover the art of Sumi-e and let Japanese painting enrich your life experience.
Frequently asked questions about Japanese Sumi-e painting classes
How long does a Japanese painting class last?
Each session of Japanese Sumi-e painting usually lasts around 1.5 hours, during which time teacher Kaoru Hirose will guide you through the fundamental principles of this technique and allow you time to practice.
How can I register for a Japanese painting class?
You can register for a Japanese Sumi-e painting class by visiting our website and following the registration instructions. If you have any questions, please do not hesitate to contact us.
What can I expect to achieve after attending a Japanese painting class?
After attending a Japanese Sumi-e painting class, you will gain a solid understanding of the fundamentals of this painting technique. You will also develop practical skills that will enable you to create your own Sumi-e artwork.
What makes a Japanese Sumi-e painting class unique?
What makes a Japanese Sumi-e painting class unique is the combination of hands-on instruction in painting technique along with immersion in the rich history and philosophy behind the art. You will learn not only how to paint, but also how to express your emotions and perspectives through art.
Are Japanese painting classes offered online?
Yes, for those who cannot attend in person, we offer Japanese Sumi-e painting classes online. You can enjoy the same expert instruction and personal attention from the comfort of your own home.
Japanese Sumi-e painting classes in other cities