Sumi-e Japanese painting class in Girona
Kaoru Hirose
Are you fascinated by the wonderful world of Japanese art and want to learn the ancient technique of Sumi-e in Girona? Don't miss the opportunity to receive instruction from the outstanding master Kaoru Hirose. Immerse yourself in the subtlety and balance of ink and brush in her Sumi-e classes, where she will guide you on a creative journey full of beauty and personal authenticity.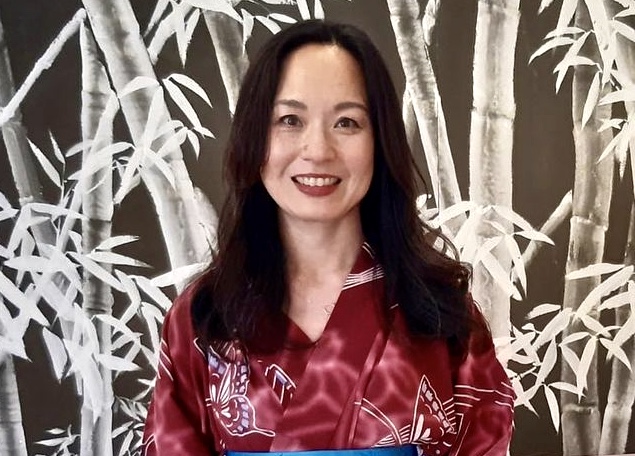 Timetable and prices of our Japanese Sumi-e painting classe
Advanced level
From 10:30 to 12:00
Basic level (English and Spanish)
From 18:30 to 20:00
Advanced level
From 18:45 to 20:15
Intermediate level
From 18:00 to 19:30
Online classes: 80 euros per month (4 classes per month) - 1st trial class Free!
Personal classes: 37 euros (30 euros for online students)
Why choose Sumi-e classes with Kaoru Hirose in Girona? Experience and mastery from an expert teacher
Kaoru Hirose is a renowned master in the art of Sumi-e, traditional Japanese painting, in Girona. With extensive experience and dedication to this ancient art form, Kaoru shares with passion and skill the secrets and techniques passed down through the centuries.
Personalised approach and individual attention
By joining Sumi-e classes with Kaoru Hirose, you will receive personalised instruction that is tailored to your needs. Kaoru values the uniqueness of each student and adjusts to their artistic abilities and goals. He will guide you in detail, offering constructive feedback and practical advice to improve your skills and develop your unique style in Sumi-e.
Inspiring environment conducive to growth
Sumi-e classes with Kaoru Hirose take place in an environment that encourages creativity and personal growth. Here you can explore your creativity and connect with other art lovers. Kaoru creates a supportive and collaborative environment where students can exchange ideas, inspire each other and grow together as artists.
Do you want to give a workshop as a gift?
Start your journey into the world of Sumi-e in Girona with the experienced guidance of Kaoru Hirose.
Embark on an exciting journey into the ancient Japanese art of Sumi-e in Girona, guided by expert teacher Kaoru Hirose. If you are passionate about art and eager to explore new techniques and styles, our Sumi-e classes are the perfect place for you.
We invite everyone, from those just starting out on their artistic journey to experienced artists looking to expand their skills, to visit our website and find out more about the classes we offer. Our sessions are an inspiring environment where you can develop your artistic skills under the wise guidance of Kaoru Hirose.
In our classes, each student is valued and receives personal attention to promote their growth. Our goal is for each individual to cultivate their unique style and express themselves through the art of Japanese Sumi-e painting.
Kaoru Hirose, with his extensive experience and passion, will accompany you at every stage of your learning. You will immerse yourself in the rich culture of Japan, learn the elegance of each stroke and the delicacy of ink on paper.
Don't miss this opportunity to join us! Open the door to a world of creativity and beauty, discover the art of Sumi-e and let Japanese painting enrich your life.
Preguntas frecuentes acerca de las clases de pintura japonesa
What materials are needed for Japanese painting classes?
Bamboo brushes, sumi ink, rice paper and other traditional supplies are generally used in Japanese painting classes. Some additional materials may vary according to the instructor's preference.
What kind of subjects can be painted in Japanese painting classes?
Japanese painting classes offer the opportunity to explore a wide range of subjects, from natural landscapes and flowers to animals and human figures. Students can choose the subject that most interests them and work on its artistic representation.
What kind of previous experience is required to take Japanese painting classes?
No previous experience in Japanese painting is required to take classes. Classes are open to both beginners and those with previous art experience. Instructors will tailor lessons according to the level and skills of individual students.
What is the difference between Japanese Sumi-e painting and Western painting?
Japanese Sumi-e painting focuses on simplicity, subtlety and the expression of the essence of the subject. Unlike Western painting, it does not focus on realistic representation or the use of a broad colour palette. Japanese painting is based on the balance between ink and white space.
Are there different styles or approaches within Japanese painting?
Yes, there are different styles and approaches within Japanese painting. Some popular styles include Sumi-e, Nihonga and Rinpa. Each style has its own distinctive characteristics and particular techniques that students can explore in class.
Japanese Sumi-e painting classes in other cities