Japanese sumi-e painting class in Madrid
Kaoru Hirose
Are you interested in immersing yourself in the beautiful world of Japanese art and exploring the traditional Japanese Sumi-e painting technique? In Madrid, you have the unique opportunity to learn from the renowned master Kaoru Hirose. Discover the elegance and harmony of ink and brush through her Sumi-e classes, where she will guide you on an artistic journey full of beauty and personal expression.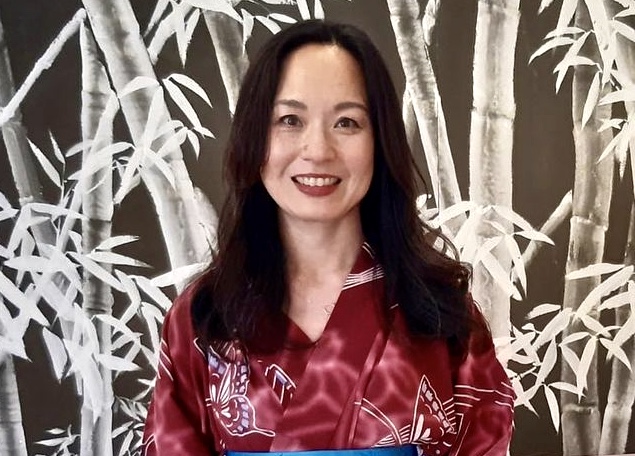 Timetable and prices of our Japanese Sumi-e painting classes
Advanced level
From 10:30 to 12:00
Basic level (English and Spanish)
From 18:30 to 20:00
Advanced level
From 18:45 to 20:15
Intermediate level
From 18:00 to 19:30
Online classes: 80 euros per month (4 classes per month) - 1st trial class Free!
Personal classes: 37 euros (30 euros for online students)
Why choose Sumi-e classes with Kaoru Hirose? Experience and knowledge from an expert teacher
Kaoru Hirose is a renowned teacher of Japanese Sumi-e painting in Madrid, with years of experience in the practice and teaching of this ancient art technique. Her deep knowledge and passion for Sumi-e is reflected in her classes, where she shares with her students the secrets and techniques passed down through generations.
Personalised approach and individual attention
By joining a Sumi-e class with Kaoru Hirose, you will receive individual attention and a personalised approach. Kaoru understands the importance of each student and adapts to your needs and artistic abilities. She will guide you step by step, giving you feedback and practical advice so that you can develop your own style and improve your artistic skills in Sumi-e.
Creative and nurturing environment
Sumi-e classes with Kaoru Hirose take place in a creative and nurturing environment, where you can explore your creativity and connect with other art enthusiasts. Kaoru fosters a supportive and collaborative environment, where students can share ideas, inspire each other and grow together as artists.
Do you want to give a workshop as a gift?
Join the Japanese Sumi-e painting classes
If you are interested in exploring the traditional Sumi-e technique and learning from master Kaoru Hirose, please visit our website. Whether you are a beginner or have previous experience, Sumi-e classes with Kaoru Hirose will give you an enriching experience and help you develop your artistic skills in an inspiring environment. Don't miss the opportunity to immerse yourself in the world of Sumi-e and discover the beauty of Japanese art with Kaoru Hirose!
Frequently asked questions about Japanese Sumi-e painting classes
What is a Japanese painting class and how does it differ from other art forms?
A Japanese painting class is a unique opportunity to immerse yourself in the traditional technique and aesthetics of Japanese painting. Unlike other art forms, Japanese painting is characterised by the use of ink and brush to create subtle, expressive strokes that capture the beauty of nature and convey emotion through simplicity and harmony.
Do I need to have previous art experience to take a Japanese painting class?
No previous art experience is required to take a Japanese painting class. Classes are designed for students of all levels, from beginners to those with experience. Our expert teachers will tailor lessons according to your skill level, giving you the support and guidance you need to develop your artistic skills in Japanese painting.
¿Cuáles son los beneficios de tomar una clase de pintura japonesa en Madrid?
Taking a Japanese painting class in Madrid offers you an enriching and unique experience. As well as learning a fascinating artistic technique, it gives you the opportunity to explore Japanese culture and aesthetics. Japanese painting can also have therapeutic benefits, helping you to find calm and serenity of mind through the practice of art.
What materials are used in Japanese painting classes?
In Japanese painting classes, traditional materials such as sumi ink, fude brush and washi paper are used. These authentic materials will allow you to experience the true essence of Japanese painting and develop a deeper connection with the technique and art.
How can I enrol in a Japanese painting class in Madrid?
You can sign up for a Japanese painting class in Madrid through our website or by contacting Kaoru Hirose, our renowned teacher, directly. On the website you will find information about times, prices and contact details. Book your place and get ready to embark on an inspiring artistic journey into the world of Japanese painting.
Japanese Sumi-e painting classes in other cities