Sumi-e · Japanese Ink Painting · Kaoru Hirose
Kaoru Hirose
I am a Japanese artist and certified teacher of Sumi-e, Japanese ink painting. Would you like to enjoy Sumi-e through my works, online classes, in-person courses, intensive workshops in universities and art schools, in Barcelona or other cities? Welcome!
Do you want to give a workshop as a gift?
What do they think about us?
Taller de Sumi – e. Una experiencia fantástica!! Kaoru es una artista y una profesora paciente, amable y atenta. Recomiendo sus clases 100 % 😍
Bárbara Sáinz Vizcaya
29/11/2022
Maravilloso! Kaoru es encantadora y muy dedicada
Molt contenta amb l'experiència i aprenentatge. Felicitats Kaoru!
Xavier Rifé Rueda
05/07/2021
Kaoru es una profesora espectacular, tanto a nivel personal como artístico. Es un 10 en todos los aspectos y pintar con ella en sus cursos es increíble 🙂
alicia guzman reguero
11/05/2020
Gracias por alegrarme el confinamiento con tus hermosas clases de sumi e!! 😘🤩
Molt recomanable les classes online amb la Kaoru. De manera senzilla i concreta et permet anar coneixent la tècnica del Sumi-e. Endavant animo a provar-ho.
He recibido varías clases con Kaoru Hirose de Sumi-e. Nunca había pintado antes. Estoy encantado con este estilo de pintura japonesa. Es entretenida y muy relajante. Kaoru enseña muy bien, y lo difícil lo hace fácil, ya que hay muchos degradados y grises complicados de realizar. Una fantástica experiencia.
Dolors Vila Mur
08/05/2020
Fabulosa y muy recomendable la práctica del Sumi-e! Más que una técnica, he descubierto un excelente trabajo de introspección que integra la relajación y el bienestar. Materiales humildes como la tinta y el agua te proporcionan fluidez y un medio de expresión para captar la esencia del entorno mediante el trazo. Kaoru es una guía imprescindible para el desarrollo de esta práctica, formada en Japón, con titulación oficial, nos enseña el método, mostrando todos los pasos y habilidades. De ella aprendes a adoptar una actitud de observación y armonía al representar los elementos característicos del Sumi-e.
Ramona caballe forcadell
07/05/2020
He fet 4 classes online amb la professora Kaoru. M' ha encantat conèixer aquesta tècnica, sóc totalment nouvinguda al món del pinzell i tot i que és difícil per a mi, espero el dissabte per tornar_hi. Desitjaria seguir amb les classes més enllà del confinament. Moltes gràcies Kaoru per tot lo que comparteixes! Un abrazo grande!
ROSA Gil I de Perosanz
07/05/2020
He tenido en estos días la suerte de poder practicar y aprender Sumi-e con Kaoru. Una experiencia de lo más gratificante. Esta disciplina de pintura recorre los espacios de tu mente de forma placentera y la Profesoran nos comparte su creatividad con gran maestría. GRACIAS Kaoru por tu entrega.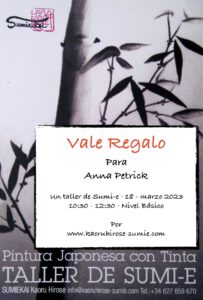 Do you want to give an art class of Japanese ink painting, Sumi-e as a gift to your partner, friend, family… to your loved ones? Many people who like Japanese culture (art, manga, anime, martial arts, bonzai, ikebana…..) received Sumi-e course gift cards and enjoyed the experience of Sumi-e art. Look at the workshops and