Japanese sumi-e painting class in Barcelona
Kaoru Hirose
Would you like to delve into the enchanting universe of Japanese art and learn the ancient technique of Sumi-e painting in Barcelona? Here, you can have the exceptional experience of being a student of the famous artist Kaoru Hirose. Experience the subtle delicacy and balance between ink and brush in her Sumi-e classes, where she will lead you on an artistic path full of beauty and personal authenticity.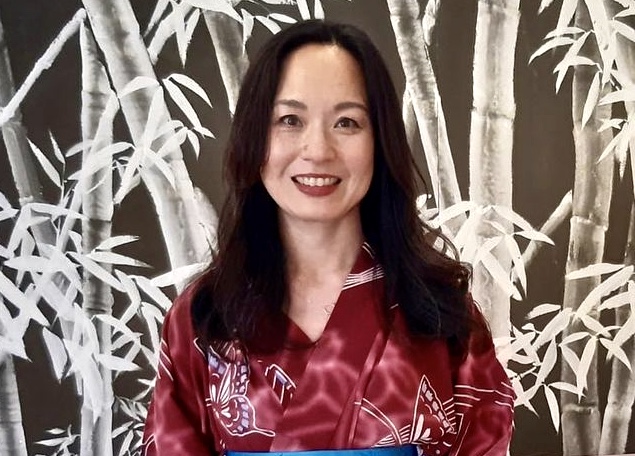 Timetable and prices of our Japanese Sumi-e painting classes
Advanced level
From 10:30 to 12:00
Basic level (English and Spanish)
From 18:30 to 20:00
Advanced level
From 18:45 to 20:15
Intermediate level
From 18:00 to 19:30
Online classes: 80 euros per month (4 classes per month) - 1st trial class Free!
Personal classes: 37 euros (30 euros for online students)
Why choose Sumi-e classes with Kaoru Hirose in Barcelona? Experience and wisdom of a consecrated teacher
Kaoru Hirose is a renowned instructor of Sumi-e, traditional Japanese painting, in Barcelona. With her vast experience in the practice and teaching of this ancient art, her mastery and enthusiasm are reflected in each lesson, transmitting to her students the mysteries and techniques inherited through generations.
Personalised methodology and exclusive dedication
By enrolling in Kaoru Hirose's Sumi-e lessons, you will receive personalised treatment and a methodology adapted to you. Kaoru values the uniqueness of each student and adjusts to their abilities and artistic needs. He will guide you in detail, giving you feedback and practical suggestions to perfect your style and skills in Sumi-e.
An environment conducive to creativity and growth
Kaoru Hirose's Sumi-e lessons take place in an environment that promotes creativity and personal enrichment, where you can unfold your imagination and connect with other art lovers. Kaoru encourages a climate of support and cooperation, where students can exchange ideas, inspire each other and evolve together as artists.
Do you want to give a workshop as a gift?
Learn the art of Sumi-e in Barcelona with the expert master Kaoru Hirose.
Embark on a fascinating journey into the traditional Japanese art of Sumi-e in Barcelona with expert teacher Kaoru Hirose. If your passion is art and you are curious to explore new techniques and styles, Sumi-e classes are the perfect place for you.
We invite everyone, whether you are a beginner eager to learn or an experienced artist looking to expand your horizons, to visit our website and learn more about the lessons we offer. Our classes are an inspiring space where you can develop your artistic skills under the wise guidance of Kaoru Hirose.
In our classes, each student is valued and will receive personal attention to enhance their growth. The aim is for each student to develop their unique style and express themselves through the art of Japanese Sumi-e painting.
Kaoru Hirose, with his vast experience and passion, will guide you through every step of your learning. You will immerse yourself in the rich Japanese culture, learn the elegance of each brushstroke and the subtlety of ink on paper.
Don't miss the opportunity to join us! Open the doors to a world of creativity and beauty, discover the art of Sumi-e and let Japanese painting enrich your life.
Frequently asked questions about Sumi-e Japanese painting courses
What is Japanese Sumi-e painting?
Japanese Sumi-e painting is an ancient art technique that focuses on the use of black ink and paper. It stands out for its simplicity, minimalism and the depth that each brushstroke can convey. It is an art form that focuses not only on the end result, but on the process of creation and the artist's connection to his or her work.
Do I need to have experience in Japanese painting to attend Sumi-e classes?
No, it is not necessary to have previous experience in painting or Japanese art to attend Sumi-e classes. Our courses are designed to suit the abilities of each student, from beginners to more advanced artists. Teacher Kaoru Hirose will guide each student through the learning process, regardless of their level of experience.
What materials do I need to attend the Japanese painting classes?
For Japanese Sumi-e painting classes, you will need a specific Sumi-e brush, black ink, rice paper or similar and a suzuri (stone inkwell). Some students also choose to have an ink sealer and a bamboo mat, although these are not essential.
Some students also choose to have an ink sealer and a bamboo mat, although these are not essential.
Do you offer Japanese Sumi-e painting classes online?
Yes, we offer online class options for those students who cannot attend in person. These classes maintain the same quality and personal attention as our face-to-face classes. We will provide you with the necessary guidance to ensure that you have a positive and enriching learning experience from the comfort of your own home.
What artistic possibilities does Japanese Sumi-e painting offer in comparison to other painting styles?
Japanese Sumi-e painting is unique in its minimalist use of ink and paper to create works that can be both profoundly simple and complex. Its focus on lines and simplicity of design offers a fascinating contrast to more ornate painting styles. In addition, Sumi-e painting is closely linked to calligraphy and the principles of Zen, offering a form of expression that can be as meditative as it is artistic.
Japanese Sumi-e painting classes in other cities