Japanese sumi-e painting class in Reus
Kaoru Hirose
Are you interested in delving into the intriguing universe of Japanese art and learning the ancient technique of Sumi-e in Reus? Don't miss the opportunity to receive instruction from the outstanding master Kaoru Hirose. Experience the subtlety and balance of ink and brush in her Sumi-e classes, where she will accompany you on a creative journey full of aesthetics and personal authenticity.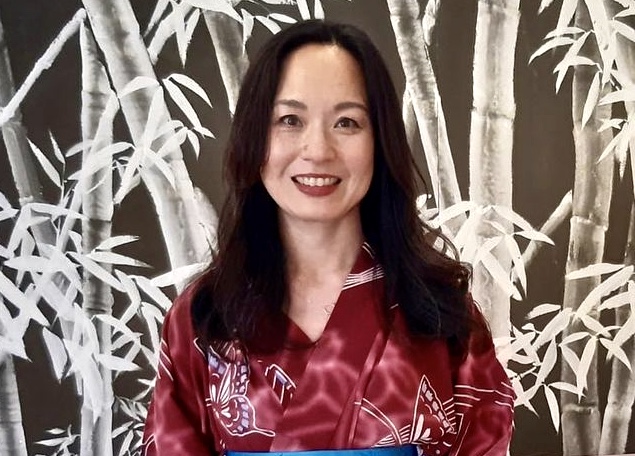 Timetable and prices of our Japanese Sumi-e painting classes
Advanced level
From 10:30 to 12:00
Basic level (English and Spanish)
From 18:30 to 20:00
Advanced level
From 18:45 to 20:15
Intermediate level
From 18:00 to 19:30
Online classes: 80 euros per month (4 classes per month) - 1st trial class Free!
Personal classes: 37 euros (30 euros for online students)
Why choose Sumi-e classes with Kaoru Hirose in Reus? Experience and mastery from an expert teacher
Kaoru Hirose is a renowned teacher of Sumi-e, traditional Japanese painting, in Reus. Her extensive experience and dedication to this ancient art is evident in each session, where she passionately and expertly transmits to her students the secrets and techniques handed down through the centuries.
Personalised approach and exclusive attention
By taking part in Sumi-e classes with Kaoru Hirose, you will get personalised teaching and an approach that is tailored to your needs. Kaoru values the uniqueness of each student and adapts to your artistic skills and goals. He will guide you in detail, providing positive feedback and practical advice to improve your skills and develop your unique style in Sumi-e.
Stimulating and growth-facilitating environment
Kaoru Hirose's Sumi-e classes take place in an environment that promotes creativity and personal development, where you can unleash your creativity and connect with other art enthusiasts. Kaoru creates a supportive and cooperative space where students can exchange ideas, inspire each other and evolve together as artists.
Do you want to give a workshop as a gift?
Start your journey in the art of Sumi-e in Reus under the tutelage of the experienced Kaoru Hirose.
Embark on a fascinating journey into the ancient Japanese art of Sumi-e in Reus, under the expert guidance of master teacher Kaoru Hirose. If you are passionate about the art and interested in discovering new techniques and styles, our Sumi-e classes are the perfect setting for you.
We invite everyone from beginners eager to learn to experienced artists looking to expand their palette of skills to visit our website and learn more about the classes we offer. Our sessions are an inspiring environment in which you can develop your artistic skills under the wise guidance of Kaoru Hirose.
In our classes, each student is valued and receives personal attention to foster their growth. Our goal is for each individual to cultivate their unique style and express themselves through the art of Japanese Sumi-e painting.
Kaoru Hirose, with his vast experience and passion, will accompany you at every stage of your learning. You will delve into the rich culture of Japan, learn the elegance of each brushstroke and the delicacy of ink on paper.
Don't miss this opportunity to join us! Open the door to a world of creativity and beauty, discover the art of Sumi-e and let Japanese painting beautify your life.
Invitamos a todos, ya sean principiantes con ansias de aprender o artistas veteranos buscando ampliar sus conocimientos, a visitar nuestra página web y descubrir más sobre las lecciones que ofrecemos. Nuestras clases son un ambiente motivador donde podrás cultivar tus talentos artísticos bajo la experta dirección de Kaoru Hirose.
En nuestras sesiones, cada alumno es apreciado y recibe atención individualizada para impulsar su desarrollo. El objetivo es que cada persona pueda forjar su estilo singular y expresarse mediante el arte de la pintura japonesa Sumi-e.
Kaoru Hirose, con su extensa trayectoria y pasión, te asesorará en cada etapa de tu formación. Te sumergirás en la profunda cultura de Japón, aprenderás la gracia de cada trazo y la sutileza de la tinta sobre el papel.
¡No dejes pasar esta oportunidad de unirte a nosotros! Abre la puerta a un universo de creatividad y belleza, descubre el arte del Sumi-e y permite que la pintura japonesa enriquezca tu experiencia vital.
Frequently asked questions about Japanese painting classes
What are the benefits of taking Japanese Sumi-e painting classes?
Japanese Sumi-e painting classes offer multiple benefits, including the development of artistic skills, relaxation and a connection to Japanese culture. They also give you the opportunity to explore a unique technique and express yourself creatively.
Is it necessary to have previous knowledge of Japanese culture to join the Japanese Sumi-e painting classes?
No prior knowledge of Japanese culture is required to participate in Japanese Sumi-e painting classes. The classes are designed to introduce you to both the artistic technique and the relevant cultural aspects, giving you a complete and enriching experience.
What materials are used in Japanese Sumi-e painting classes?
Traditional materials such as bamboo brushes, sumi ink and rice paper are used in Japanese Sumi-e painting classes. These materials are essential to achieve the aesthetics and technique characteristic of Japanese Sumi-e painting.
What is the difference between Japanese Sumi-e painting and other painting techniques?
Japanese Sumi-e painting is distinguished by its minimalist approach and the use of ink and brush to create artistic representations. Unlike other techniques, Sumi-e seeks to capture the essence of the subject with simple strokes and few colours. It is a meditative art form full of poetic expression.
What makes Japanese Sumi-e painting classes unique and special compared to other painting styles?
Japanese Sumi-e painting classes offer a unique experience combining artistic technique with Japanese philosophy and spirituality. In addition to learning the technique of Sumi-e, you will also immerse yourself in contemplation and connection with nature, simplicity and the search for inner harmony. It is an art form that goes beyond mere visual representation and invites you to explore a profound aesthetic and emotional experience.
Japanese Sumi-e painting classes in other cities